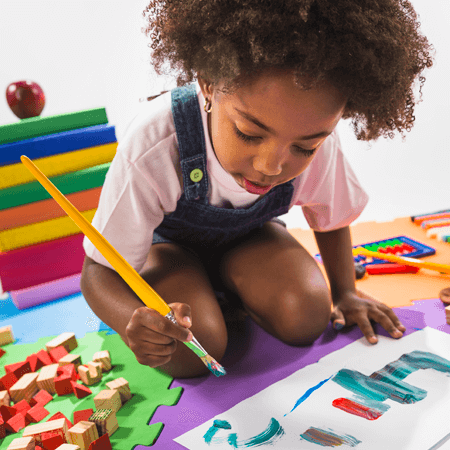 At Rainbow CDC, we understand the importance of establishing a caring and trusting relationship with every child. That's why your child's days here at Rainbow CDC will always start with warm hellos and end with loving goodbyes.

The early years of your child's life are a time of tremendous development and learning. Our curriculum is specifically designed to focus on the whole child. We work to cultivate children's curiosity and independent thinking, as well as support their physical growth and language development.

We believe in child-centered learning, and our program focuses on each individual child's needs, abilities, interests, and learning style. We also strongly believe that young children learn best when they are provided with meaningful instructional experiences that build upon and connect with previous experiences in their everyday life. Hence, by relating language, math, science, social studies, and art to a child's everyday life, the child will find his learning experiences to be much more interesting and stimulating.

In our classrooms, the children learn through thematic units that link together the academic subjects of math, science, writing, literature and art. Our classrooms are organized into learning centers where children express themselves freely, role play in order to make sense of the real world, direct their own learning, explore things that interest them, experiment with materials they prefer, improve their social skills when interacting with peers and staff, and acquire other skills that are necessary for future successs.

We are thrilled to have state-of-the-art centers in the culturally diverse borough of Queens, NY, and we take pride in our bilingual educational programs. Children at our centers are exposed to both English and Chinese instruction throughout the day. You will be surprised at how much and how quickly your child's language skills will develop!

We certainly understand that choosing a childcare center for your child is not an easy decision. We would love to have the opportunity to make a positive difference in your child's life! Please call us today to schedule a free tour.
Copyright 2019 – Rainbow Child Development Center – All rights reserved.